Possible shortage of LNG in Q1?
The recent National Gas Winter Outlook has suggested that the gas security outlook for this coming winter is relatively benign. However, as National Gas themselves admit, this position is dependant on ample supplies of LNG reaching the UK. Winter demand for 23/24 for UK/Ireland is forecast to be
around 44 bcm, of which 11.6 bcm is expected to come from LNG, around 27 % of the total. However, deliveries of LNG are far from certain. The UK has relatively few firm long term contracts for the supply of LNG, we depend largely on the spot market. Here we are in competition with the big LNG buyers in the Far East, the biggest market for LNG in the world. The position here is complex
and will depend on the interaction of four key variables:-
1

The price of gas at the NBP (in p/therm)

2

The price of LNG on the JKM spot market (in $/mmbtu)

3

The $/£ exchange rate and finally

4

The day rate for LNG vessels.
Transport cost to the far east from the Gulf of Mexico terminals is more than it is to the UK, the "transport differential". So, LNG could still flow to the UK in some circumstance, even if UK prices are lower than those in the Far East. Basically, we will be able to import LNG if the NBP price plus the transport differential is greater than the JKM price. This transport differential is currently $1.79/mmbtu. The table below shows the UK and JKM LNG prices for the coming winter.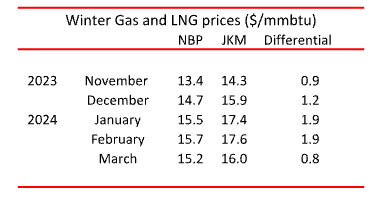 For the two coldest months January and February the price differential is just outside the level that
would permit spot LNG imports. A lot can change over the next few months, but it is already a
concern but that the economics don't quite align for LNG imports in early 2024.