Why are gas prices so high?
Over the last year and a half, gas prices in the UK have been on an unprecedented roller coaster ride, going from a low of 9p/therm in May 2020 to almost 280p/therm in October this year. This pattern has been repeated throughout Northwest Europe. Figure 1 below shows Day Ahead gas prices at the NBP since the start of 2019.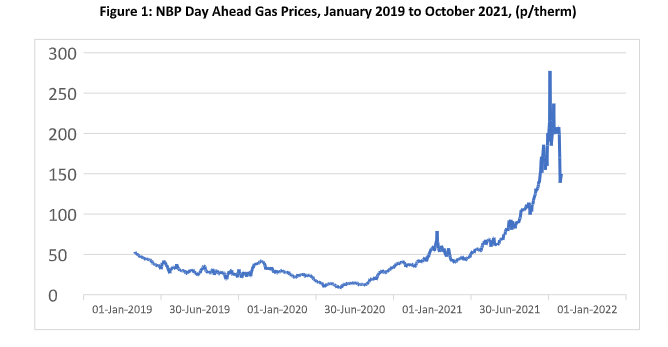 The surge in prices over the last four months has really been without precedent and has caused considerable problems for gas marketers in the UK, especially the smaller ones. Why have prices soared so much recently? Although there is one dominant factor, it has been caused by a perfect storm of upward price pressures all occurring at the same time.
The key element is the recent surge in LNG spot prices. In recent years Europe has become much more dependent on LNG. As recently as 2013, LNG only provided around 9% of Europe's gas, but by 2019 this had more than doubled to 22%. For many LNG markets around the world most LNG cargoes are supplied on a long-term contract basis.1 However, in Northwest Europe, especially in the UK, there are relatively few long term supply agreements and so the UK depends almost entirely on the LNG spot market. This dependance means, that in order to secure spot cargoes of LNG, the UK has to match the prices offered on the world LNG market and specifically the Far East2. The JKM3 LNG Spot market price in the Far East has surged upwards in the last year from a low of $2/mmbtu in the summer of 2020 to $31.70/mmbtu for December 20214. This surge has been caused by two key factors

Dramatic growth in LNG demand in 2021 as the market recovers from Covid. Chinese LNG demand in the first 9 months of 2021 was up 22% on the same period in 2020.
A lack of new LNG supply, as low prices from 2018 to 2021 meant that many new projects were postponed, including:Pluto T2, Browse, Scarborough, Lake Charles, Rio Grande, Tortue and Mozambique.

LNG import prices into Japan are shown below in Figure 2, both for long term contract prices and the JKM spot price

In the early/middle part of 2021 Carbon Prices seemed to be playing a significant role is firming up the gas market. These had been very low for a long time, but started to revive strongly in the last couple of years. For many years the Carbon price under the EU ETS5 was around €5/tonne but it went up to €24/tonne a year ago and now stand at €63/tonne. This has a significant impact on the economics of generation. It increased the cost of generation from coal, relative to the cost of gas fired generation, and hence meant an increase in gas demand in the summer of 2021. This came on top of a significant growth in European gas demand in Q1 2021, as the market recovered from the impact of Covid 19 in the previous year.
Weather conditions have also served to strengthen the gas market in 2021. There was cold weather in Q1 2021 which led to a 9% increase in gas demand, compared to the same period in 2020. In Q3 2021 wind speeds were much lower than normal, which led to a significant reduction in wind generated electricity, not only in the UK but across much of Northwest Europe. This in turn led to greater use of gas-fired generation, and consequent increases in gas demand.

 

The cold winter of 2020/21 mean that at the start of April 2021 gas storage levels in Europe were well below normal, only 19% full, compared with an average of 39% between 2017 and 2019. This meant that storage users were trying to buy bigger volumes of gas than usual during the past summer, which also put some strain on the market. Even by Mid -November gas storage in Europe was still only around 80% full.
Although it is not a very significant factor there have also been above normal levels of outages on gas fields on the Norwegian Continental Shelf. This may be due to scheduled maintenance postponed from 2020 because of Covid.
Finally, and perhaps most controversially, Russian gas flows to Europe seem to have been below normal this summer. Russia has fulfilled all its commitments under long term supply agreements, but it would normally have exported significant volumes of spot gas in addition. It is these spot deals that have declined this year. There are three possible explanations for this, which are not mutually exclusive.

Storage within Russia was also heavily depleted last winter, and Russia has focused on refilling this indigenous storage. There is almost certainly some truth in this suggestion.
Gazprom is currently engaged in a struggle to get the German Regulator and the EU to approve the operation of their new Nordstream 2 pipeline. It has been suggested in some quarters, and never really denied by Gazprom, that the lower exports in 2021 are a part of a campaign to persuade the authorities to approve the line. This seems likely to be true.

 

Finally, Gazprom may deliberately, or perhaps more likely, accidentally stumbled on the key to influencing the European gas market: The less gas Gazprom exports the higher the prices are. This also fits in well with Gazprom's well-known desire to return to an era of long term contracts, rather than spot market sales.
What is not in dispute is that Gazprom seams to have established a level of influence over the gas market in Europe never seen before. The huge price surge in Early October 2021 was widely attributed to the news that Gazprom had not renewed its capacity booking for the Yamal gas export line for the gas year 2021/22. Over the last few weeks, the further gyrations in the market can often be linked to Gazprom activities, or the lack of them.  
 GIIGNL annual report 2021 shows the % supplied on a short term/Spot basis is 40%. Excluding short term (up to 4 year) contracts, the Spot Cargo % is probably around 30-35% of the total. This means term contracts are around 60-65% of the total market. 

 In 2020 four countries in the Far East, Japan, China, Korea and Taiwan accounted for 56% of world LNG demand   

 JKM is Japan Korea Marker price 

 CME JKM price 10th November 2021 

 ETS means emissions Trading Scheme.